Co-hosted by Sarah Iannarone, Portland-based activist and mayoral candidate, and Christopher Williams, Deputy Superintendent/Chief of Staff for Seattle Parks and Recreation, this Civic Commons Learning Journey offered participants the opportunity to connect with the many residents and leaders who are fostering places and neighborhoods for all in a myriad of ways. As network members explored multiple public spaces and neighborhoods in each city, they learned from frank conversations with civic instigators on the efforts they are advancing, and the policy environments that support or inhibit a robust civic commons.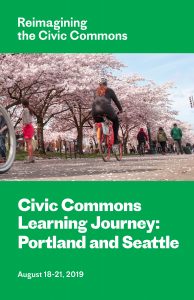 READ REFLECTIONS ON PUBLIC SPACE STRATEGIES IN PORTLAND AND SEATTLE
READ CAPTURING VALUE TO SUPPORT PUBLIC SPACE AND COMMUNITY
VIEW JOE CORTRIGHT'S PRESENTATION: URBAN ECONOMIES AND THE CIVIC COMMONS
VIEW CHRISTOPHER WILLIAM'S PRESENTATION: SEATTLE PARK DISTRICT
VIEW MORE IMAGES OF THE LEARNING JOURNEY
Image credit: James Alexander, Susan Dalton, Helen Hope, Sarah Iannarone, Bridget Marquis, Stephanie Phillips, Bronlynn Thurman.