The past few years have underscored the importance of face-to-face human connection to our daily lives and wellbeing. And made the urgency of a robust civic commons–a system of high quality public spaces that connect people of all backgrounds, cultivate trust and create more resilient communities–even more apparent.
In the wake of a global pandemic, public spaces became critical havens for people across the country. At the same time, vigorous movements against racism reflect longstanding, systematic exclusion and discrimination that is also evident in our civic infrastructure. While climate change is leading to more challenging living conditions—from blistering heat events to frequent flooding—particularly in places that have experienced decades of disinvestment.
By transforming shared civic assets to foster engagement, equity, environmental sustainability and economic development in our communities, our parks, trails, libraries, Main Streets, community centers and other public spaces can be a solution to the multiple crises we face.
On September 28-30, 2022, the Civic Commons Learning Network hosted Civic Commons Studio #6: Meeting the Moment in Minneapolis. The gathering focused on how the public realm can be a solution for the most pressing challenges of our times and considered how intentional investment in public space can foster more engaged, equitable, and environmentally and economically resilient communities.
With the Civic Commons efforts in Minneapolis as a backdrop, we experienced the work and shared learning across cities through team presentations, tours and explorations, insights from thought leaders, panel conversations and breakout discussions.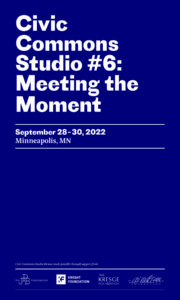 READ MEETING THE MOMENT: MINNEAPOLIS HOSTS A VIBRANT DISCUSSION OF CRITICAL STRATEGIES TO BOLSTER OUR CIVIC COMMONS
VIEW CITY SHARES PRESENTATIONS
VIEW MORE IMAGES OF THE STUDIO
Image credit: Murphy Byrne