As we address the pressing challenges of economic segregation, social isolation and distrust there is a growing need for deeper connection in our cities and reimagining our civic assets is one solution.
A high-quality and seamless public realm can increase access to nature, bring together people of all incomes and backgrounds, build a sense of community that encourages stewardship of our shared resources and deliver opportunities for people to thrive. By investing in our parks, trails, Main Streets, community centers and libraries, we can provide opportunities to foster a very much-needed culture of connection.
On April 11-13, 2023, the Civic Commons Learning Network hosted Civic Commons Studio #7: A Culture of Connection in Macon, Georgia. The gathering focused on how the public realm is critical to bridging divides and reknitting our communities.
With the Civic Commons efforts in Macon, Ga. as a backdrop, we experienced the work and shared learning across cities through team presentations, tours and explorations, insights from thought leaders, panel conversations and breakout discussions.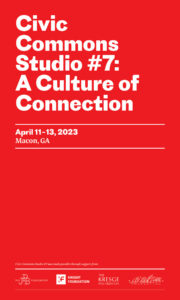 READ CREATING A CULTURE OF CONNECTION
VIEW CITY SHARES PRESENTATIONS
DOWNLOAD TONIKA LEWIS JOHNSON'S FOLDED MAP ACTION KIT
VIEW TONIKA LEWIS JOHNSON'S CBS MORNINGS INTERVIEW, FEATURING "MAP TWINS"
READ ABOUT THE MACON ACTION PLAN
VIEW RHETT MORRIS' PRESENTATION
VIEW AMANDA WEINSTEIN'S PRESENTATION
VIEW MORE IMAGES OF THE STUDIO
Image credit: Leah Yetter