These cards and the accompanying case studies will help you nurture trust, expand participation and promote advocacy through community engagement. Created by practitioners, for practitioners, the cards identify common misconceptions that often get in the way of impactful outreach – and share practical ideas for transforming your practice.
You can use the cards to:
Add powerful new outreach strategies to your toolkit.
Assess your current practices by challenging misconceptions.
Share ideas with colleagues and leaders within your organization and beyond.
Document lessons learned as you continue to evolve your practice.
A special thanks to the Sustaining Robust Engagement & Stewardship Working Group of the Civic Commons Learning Network for their contributions to this project.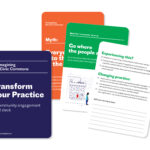 Image courtesy of Fairmount Park Conservancy features a pop-up play space at FDR Park in Philadelphia, created in partnership with Tiny WPA and local youth.